Airport information
Discover the special services at the five Lufthansa hubs in Germany, Austria and Switzerland, as well as at the other Lufthansa departure and arrival airports worldwide.
Services at Frankfurt Airport
With approximately 64 million passengers a year, Frankfurt Airport is one of the three largest airports in Europe. Find out about arrival options, the Lufthansa terminal, Lufthansa services and regular events at the largest of Lufthansa's five hubs.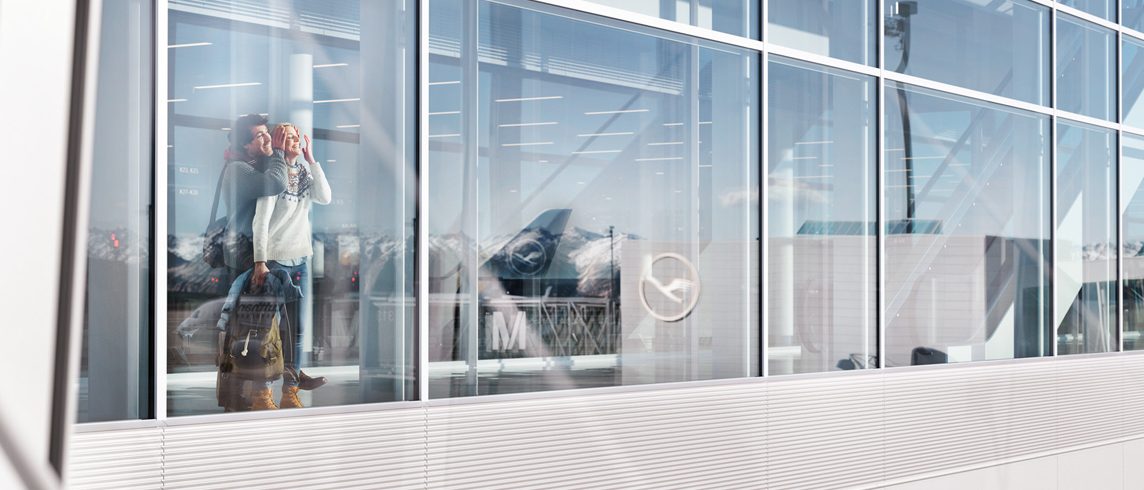 Services at Munich Airport
Munich Airport, with approximately 39 million passengers a year, is Germany's second largest airport. The service at the airport is correspondingly diverse. Find out about arrival options, the exclusive Lufthansa terminal and our special Lufthansa services.
Berlin Brandenburg Airport opens
In November Lufthansa will discontinue services to Berlin Tegel (TXL) and will fly exclusively to the new Berlin Brandenburg Airport (BER).
Information on Berlin Tegel Airport
From 8 November 2020 Lufthansa will discontinue its services to and from Berlin Tegel (TXL). Your new connection to the German capital will then be via Berlin Brandenburg Airport.
Services at Dusseldorf Airport
Find out more about the Lufthansa terminal as well as other services at Dusseldorf Airport.

Services at Vienna Airport    
Find out about our local services  at one of the world's fastest transfer airports.

Services at Zurich Airport
Find further information about Lufthansa at Terminal 1 and services at Zurich Airport here.
Singapore Airport: early check-in at Jewel Changi Airport
Since April 2019 there has been another building between Terminals 1, 2 and 3 at Singapore's Changi Airport: the publicly accessible 'Jewel'. There you can fill the time until your flight with shopping and other activities and you can even check in your baggage. You can drop off your bags from three to twelve hours prior to your departure at the Jewel's early check-in lounge on level L1.

In the following cases, you will be unable to use the early check-in at Jewel and will need to check in your baggage at the Lufthansa counters in Terminal 2, row 7: 

if you wish to check in special or excess baggage
if your booking includes more than seven passengers
if your ticket has been rebooked or other individual ticketing changes have been made
Refurbishment works at Hannover Airport
Because of refurbishment works, the counters A114 to A123 are being temporarily reduced by four counters. The following are still available:
A114 & A115 (First Class)

A116 (Business Class)

A117 to A119 (Premium Economy and Economy Class)

Please allow sufficient time for checking in, dropping off your baggage and for passing through security. The refurbishment works start on 29 October 2018 and are expected to last a year.

Services at the airport
Find out about the location, arrival and parking options, conference rooms, shopping opportunities and accessibility, as well as other airport facilities and services before you even set out on your trip.
Security Fast Lanes
With the Security Fast Lanes, you can get through security faster at over 100 selected airports, leaving you more time for the things you enjoy at the airport.
Lounges
Passengers can get away from all the airport bustle and enjoy our excellent services not only in the First Class Lounge, but also in the Senator and Business Lounges. Discover the types of lounges, the services and all locations worldwide in the respective airports.

Lufthansa Travel Guide
Whether it's arrival and parking options, a map of the area, an airport map, accessibility or just general information about the airport and its infrastructure – you will find comprehensive information in the Lufthansa Travel Guide.

Buying a ticket, help and assistance at the airport
At the four Lufthansa hubs in Germany, Austria and Switzerland, as well as at other selected Lufthansa departure and destination airports worldwide, the staff members of our local Lufthansa service counters will be happy to help you. You can buy tickets from them, make a rebooking shortly before your departure and get answers to your questions.