Lufthansa Express Bus
Travel quickly and comfortably to the airport with Lufthansa Express Bus and enjoy a great start to your trip.
Experience a mode of transport to and from Strasbourg that is coordinated exactly with the flight connections at our Frankfurt hub. Thanks to appropriately timed services and minimal transfer times you can easily catch your flights. Check in for your bus journey and your flight in advance. Drop off your baggage at Frankfurt Airport in Terminal 1, Departure Halls A and B.  
You can book tickets for the Lufthansa Express Bus directly online at lufthansa.com, just as you would a Lufthansa flight. Or you can also book the Lufthansa Express Bus via a Lufthansa agency.

Important advice for your journey with Lufthansa Express Bus
Check in online or via your mobile between 23 hours and 15 minutes before departure
One boarding pass each for Lufthansa Express Bus and your connecting flight
Your boarding pass serves as your ticket
Travel is only possible with a ticket booked and paid for in advance – tickets cannot be bought on the bus.
Bag drop-off and reclaim in Terminal 1 at Frankfurt Airport
Credit of Miles & More award and status miles
By booking a Lufthansa Express Bus, you agree to be bound by these conditions of carriage. Please read these before booking:
Departure and arrival times
Check-in, baggage and customs clearance
The baggage check-in facilities are in Terminal 1 at Frankfurt Airport.

Lufthansa baggage regulations apply to all Lufthansa Express Bus connections. The free baggage allowance complies with the baggage regulations of your connecting flight.

After landing in Frankfurt, collect your baggage from the carousel for your arriving flight in the Terminal 1 baggage reclaim area. When you have claimed your baggage, please follow the signs to the Lufthansa bus platform on Squaire West. Because of customs regulations, baggage may not be transported automatically straight to the bus or train.
Bus information
The Lufthansa Express Bus fleet consists of first-class, four-star-category coaches. All are fitted with a free Wi-Fi connection.
This might also be of interest to you
Journeys to and from the airport
Enjoy a seamless travel experience from the planning stage to your destination and back again with Lufthansa Express and our partners.
Lufthansa Express Rail
Let your journey begin on the way to the airport: seamless travel from train to plane with Lufthansa Express Rail – transfer guarantee included.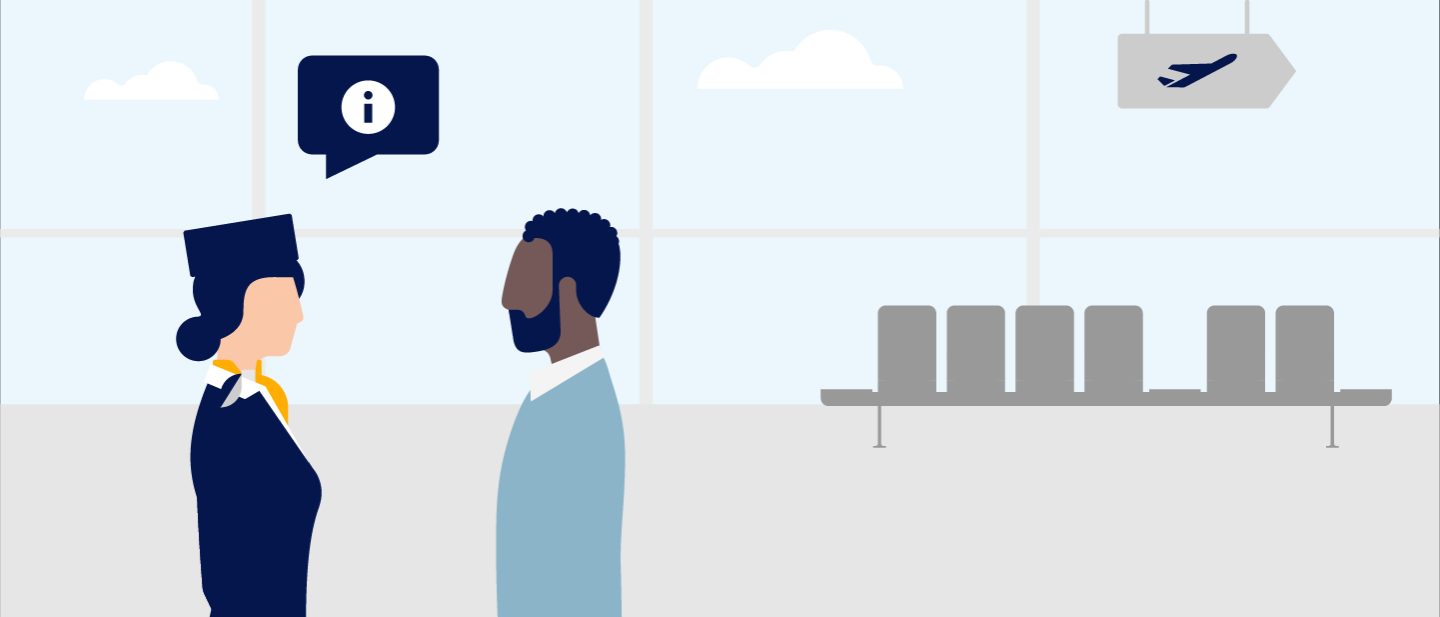 Services at the airport
Make use of our various services at the airport on arrival and when transferring and boarding.