Transporting animals as excess baggage in the cargo hold
To make sure that your pet arrives safe and sound at your destination airport, on this page we provide you with all the essential information about transporting animals as excess baggage in special transport containers in the air-conditioned cargo hold.
Lufthansa strives to ensure the safety and welfare of all its passengers – and this also, of course, includes animals. For this reason, our guidelines are based on current animal protection regulations, on import and export provisions and on International Air Transport Association (IATA) regulations.
In addition, please note the general information on the carriage of animals on Lufthansa flights.
Specifications for the transport container
To transport an animal in the cargo hold, you will require a transport container compliant with current IATA (International Air Transport Association) regulations; otherwise Lufthansa can refuse to carry the animal.

Please note: the transport container must be secured with screws. A plastic locking mechanism is not considered to be a secure enough method of fastening and will therefore not be accepted.

Different transport containers are required according to the animal species being transported. You must bring the transport container with you. It is not, as a general rule, possible to purchase one at the airport. We recommend that you obtain the transport container in plenty of time so that your pet can get used to it before the flight.
Below you will find the specifications for the containers for transporting dogs and cats in the air-conditioned cargo hold.
1. The transport container must be big enough for the animal to be able to stand in its natural position and have enough room to lie down and turn round.

2. The maximum size for a container for transport in the cargo hold of a passenger aircraft is 125 × 75 × 85 cm.

3. The container must be escape-proof. We recommend sturdy plastic or wooden cages made from harmless and non-toxic material. The transport container must have ventilation holes in all four sides. The holes must be small enough to prevent the animal getting any part of its body through and risking injury and to guarantee protection from biting or scratching by the animal.

4. The inside of the container must not have any sharp corners, edges or protruding nails on which the animal could injure itself.

5. The transport container must have a water-proof floor and be lined with absorbent material, such as a blanket or absorbent pad/mat. Newspaper, cardboard and straw are not permitted.

6. Food and water bowls (empty) must be attached to the cage and be fillable from the outside. Food and water for the flight can be optionally provided to take with the animal; however, it must be ensured that these cannot be spilled during the flight.

7. Castors/wheels are not permitted on the container. If necessary, they must be removed before the cage is accepted.

8. There must be spacer bars located centrally on both of the long sides.

9. Please carry your pet's collar and lead with you in your carry-on baggage.

10. Only one animal is permitted per container. Exceptions apply*

* Up to two young animals of comparable size, which may be between 12 weeks and 6 months old, or two fully grown animals of comparable size and up to 14 kg per animal or a mother animal with one young animal (0–6 months) still dependent on the mother are permitted in the same transport container. The requirement for transporting several animals in one container is that all the animals in it must be able to stand, turn and lie down in their natural positions and that they are used to being together.

Transport containers for dogs and cats
Please note the following: containers made of wire or wire mesh are not allowed for air transport. Equally, the top of the container must not be made of wire but must be solid. Air holes are allowed so long as they do not reduce the stability of the top of the container.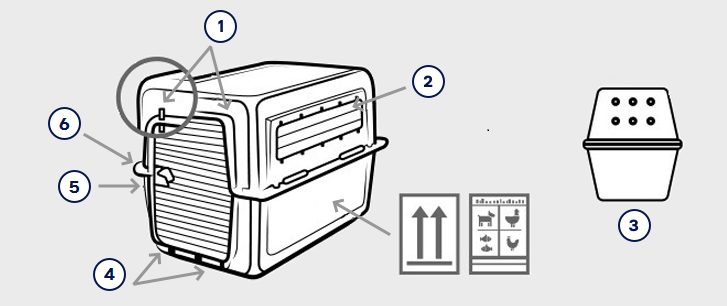 1. Door hinges and latches must protrude above and below the door openings on the horizontal projections by at least 1.60 cm.

2. Ventilation holes
3. Rear view
4. Attached food and water containers
5. Door latch
6. Spacers

Prices
The price for the carriage of animals as excess baggage in the cargo hold depends both upon the route and the size of the transport container. The price applies per flight direction, so also with a Lufthansa connecting flight, and is charged only once (e.g. on a flight from Hamburg via Frankfurt to Madrid). For return flights and stop-overs (travel interrupted for more than 24 hours), the price is charged again.
Payment for taking your pet with you should be made at the check-in counter or at the Lufthansa service counter at the airport. In addition to your pet and its transport container, you can, of course, also take along the free baggage allowance included with your ticket.
Note: A surcharge of EUR 150 / CHF 170 / USD 170 / 220 CAD is applicable for animals travelling in the cargo hold if in transfer via Brussels, Geneva, Frankfurt, Vienna and Zurich.
Baggage calculator
You can check your free baggage allowance in just a few steps with our baggage calculator – based on route, travel class and fare. Here you can also find the prices for transporting your pet in the cargo hold or in the cabin.
Checklist
To make your preparations easier, we have prepared a checklist with all the important points.