Lufthansa Allegris – just the way you want it
The world is big. A wonderful, unique blend of people, cultures, and stories. This diversity comes together on board our flights and is reflected in the personalities of our passengers. Because traveling is an expression of individuality, a desire for freedom and personal development. With Lufthansa Allegris, we offer our guests a travel experience that suits them.
Can travel be thought of in a new and personal way?
Lufthansa Allegris – individual well-being
A private trip today, a business trip tomorrow. Sometimes alone, sometimes with family or friends. The reasons for traveling are as diverse as our passengers. And what expectations are associated with this depends on the most diverse situations. So, please take a seat. Find the place where you feel good. With Lufthansa Allegris, discover a new travel experience tailored to your wishes and requirements.
Lufthansa Allegris is our promise to focus even more on you as our guest. That is why we are taking travel to a new level across all classes. We have radically rethought seats, cabins, and services. Starting in winter the first aircraft providing this new travel experience will be enhancing our fleet. In 2024 additional, state-of-the-art, long-haul aircraft will follow, equipped for the first time with our new Allegris First Class. Join us on this new long-haul experience and look forward to a future with more and more latest-generation aircraft. Flying is becoming more personal than ever before. Welcome to Lufthansa Allegris.
Made for you – discover our new travel classes
With us you should feel at home – on every single flight and in all our reconceived travel classes. Whether in Economy, Premium Economy, Business Class, or First Class: Look forward to individual and very personal moments of well-being above the clouds. Why not familiarize yourself now with the details, large and small, of our new premium concept. Especially exciting: our new suites – newly designed from scratch and with maximum privacy due to higher partitions and closable doors. Be inspired by the ample highlights of our First Class Suites and look forward to our new Business Class Suite.
First Class
Close the door. Arrive. Feel good. In our new First Class, you will experience the dream of flying anew. Whether you are travelling alone or with a partner, you will enjoy maximum privacy and superb comfort in our suites. Higher partitions, fine materials and generous amounts of personal space ensure the perfect feel-good atmosphere on board.
Smart details, such as the individually adjustable lighting and the 10-inch tablet for controlling all your seat, lighting, and entertainment functions, will make your journey unforgettable.
Exceptionally comfortable seating – extra-wide seat with seat heating and cooling function
Spacious table – for top-quality meals or for working
Personal wardrobe with large mirror – get changed undisturbed within your own four walls
Perfect for you and your wishes – discover all the features of our new suites now.
Business Class
With our new Business Class, we are giving your wishes and expectations more freedom – and numerous ways to personalize your trip. Because the choice is yours: between a window seat with plenty of extra privacy, the Business Class Suite, and other experiences. With seven different seats, you are sure to find the perfect one for your requirements.
Each seat can be individually cooled or heated as desired and provides direct access to the aisle. Details such as the individually adjustable lighting and the 10-inch tablet for controlling all seat, lighting and entertainment functions ensure the right atmosphere on board.
Especially comfortable seating – ergonomically shaped, infinitely and flexibly adjustable seats with adjustable headrest and lumbar support in the backrest
Maximum privacy – the seat shells, which are at least 114 cm high, ensure increased privacy
Plenty of space for working and dining – generously designed, stable tables and shelves with lockable storage compartments
Excellent entertainment on board – 18-inch, 4K monitor and noise-canceling headphones
Technology that makes life easier

– wireless charging for your devices, sockets, and the option to connect your own devices to the entertainment system via Bluetooth
One Business Class – seven possibilities. Discover the seat that suits you and your individual requirements.
Premium Economy Class
The new Lufthansa Premium Economy Class will set new standards. The modern seat with its innovative hard-shell design can be effortlessly adjusted. Whether headrest, armrest or leg rest, you are sure to find the perfect seat position without disturbing fellow passengers in the row behind. More privacy, more comfort, and more space for your individual travel experience: that is the Premium Economy Class promise.
Thanks to the special design, all seats have a discreet screen for more privacy and plenty of personal space – ideal for pleasant working, eating and relaxing.
Individually adjustable seating position – backrest with wide angle of recline, adjustable headrest and armrests for your comfortable journey
Maximum legroom – enjoy plenty of space and comfort with a 99 cm seat pitch and comfortable leg rest
Increased privacy – more room and better opportunities for working than in a traditional Economy Class seat
Your premium compartment – Premium Economy Class is separated from Economy Class and Business Class by a privacy screen
The significant increase in comfort and the many little amenities turn Premium Economy Class into your own personal extra.
Economy Class
The new Lufthansa Economy Class will offer you just the flexibility and extras that will make your travel experience perfect. No matter how long the flight lasts, you will sit comfortably, enjoy excellent service, plenty of personal space and can make your journey even more individual and comfortable with small amenities.
Clever details, such as a new storage compartment and the USB power supply at the seat, also ensure an enjoyable travel experience.
Spacious, latest generation seats – ergonomic and with individually adjustable headrest for maximum comfort
Brilliant 4K monitors – for great entertainment at every seat
Bluetooth connection for the inflight entertainment system

– to watch movies or listen to music wirelessly with your own headphones
Discover the seat that suits you and your individual requirements in a relaxed way and get to know the features of the individual seats now.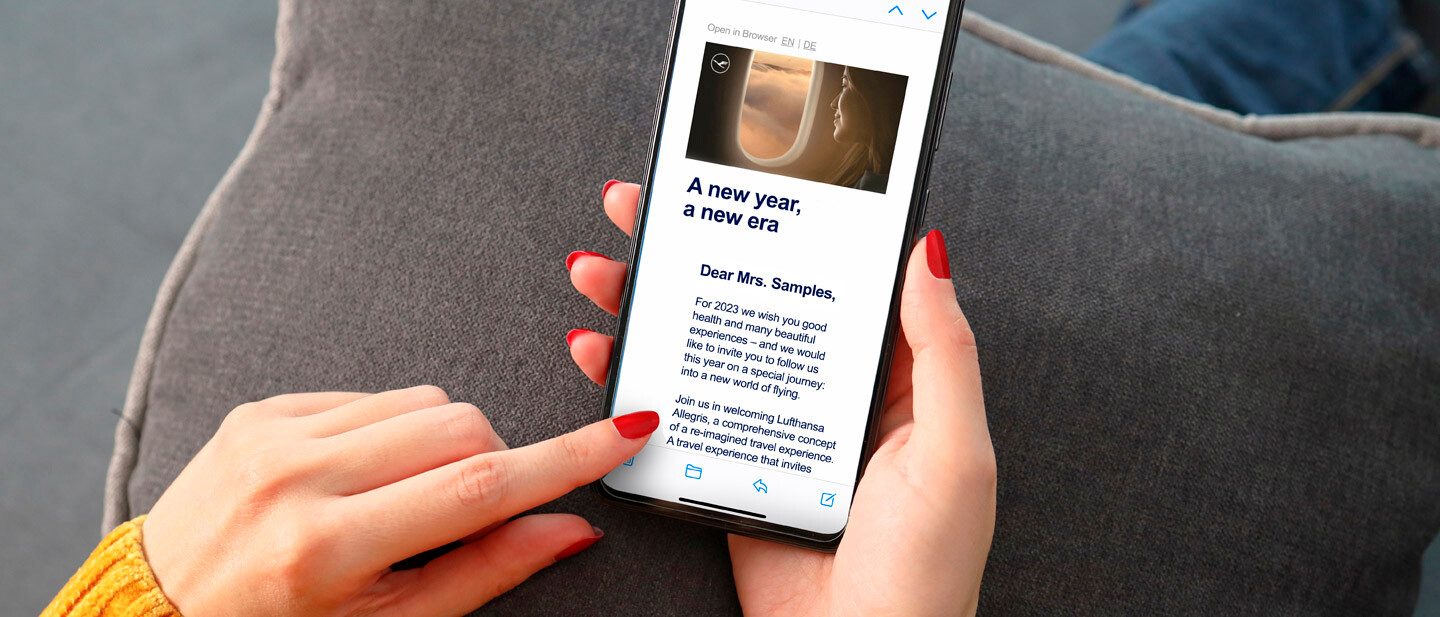 Stay up to date – with the Lufthansa newsletter
Would you like to know how Allegris is progressing? What new travel experiences you can expect on our long-haul flights in future? Then let's stay in touch.
Subscribe to our newsletter and we will keep you up to date with all the news about Lufthansa.