SHARE NOW Car-sharing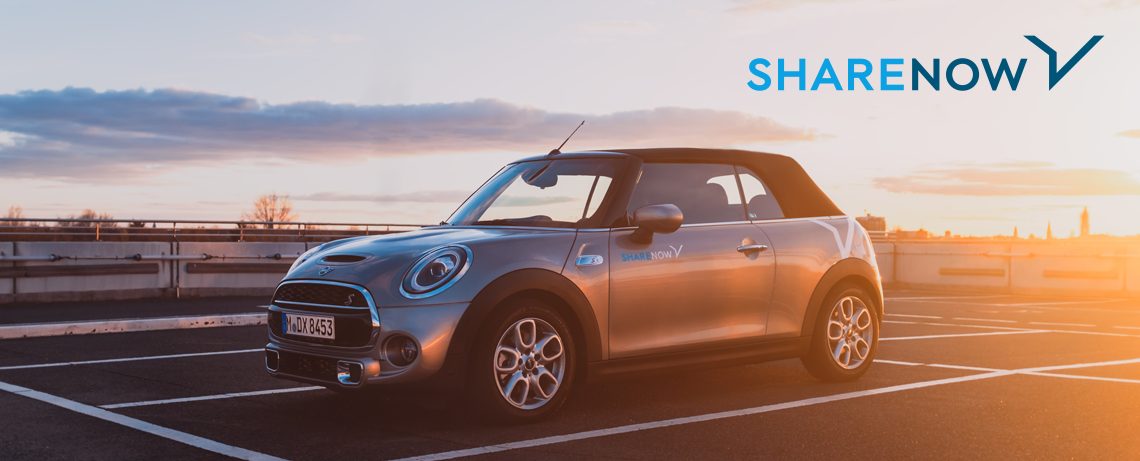 Whether it's for two minutes or 30 days: SHARE NOW car-sharing offers you a cost-effective alternative for getting to the airport, into town or to your next appointment. If you require a vehicle by the day, you can order it to your desired address and reserve it straightaway free of charge.*
Are you already registered with SHARE NOW? Reserve a car now to your front door or at the airport.

You aren't registered yet? Get a EUR 10 starting credit.

Create an account
Register free of charge with SHARE NOW.

Download app
Download the app. This also serves as the key to all vehicles.

Upload driver's licence
Upload your driver's licence to the app where it will be validated.

Rent a vehicle
Locate and then book a vehicle in your vicinity directly via the app.
Your benefits
Direct connection
With SHARE NOW there will always be a vehicle ready for you in 16 European cities. You will find SHARE NOW at most airports throughout Europe. Enjoy a relaxed drive to the airport and then, after landing, drive straight to your meeting.
Unbeatable prices & all inclusive
The rates are considerably cheaper than the prices of taxi rides and conventional car rental companies. That's because parking in the city as well as insurance, winter tyres, satnav and fuel are included. You don't need to refuel your vehicle either – but if you do, you will even receive an extra credit.

Maximum flexibility
With SHARE NOW you can be more flexible than with traditional car rental companies. There are no fixed rental offices, no paperwork and no queueing. Start and end your rental as you choose within the operating area. There are thousands of premium vehicles, Europe's largest fleet of electric cars and a continuous direct connection to the airport available to you.
High level of availability – with or without booking
Cars are available around the clock. As soon as you see an available vehicle, you can simply get in and drive away. If your plans require greater certainty, you can pre-book, and the vehicle will be delivered to your desired location free of charge.
* from EUR 39.99/day + EUR 0.19/km incl. fuel, parking and insurance.