What should I be aware of when flying with my baby?
When you and your baby fly with Lufthansa you will feel in good hands, because our special services are set up to cater fully to your needs.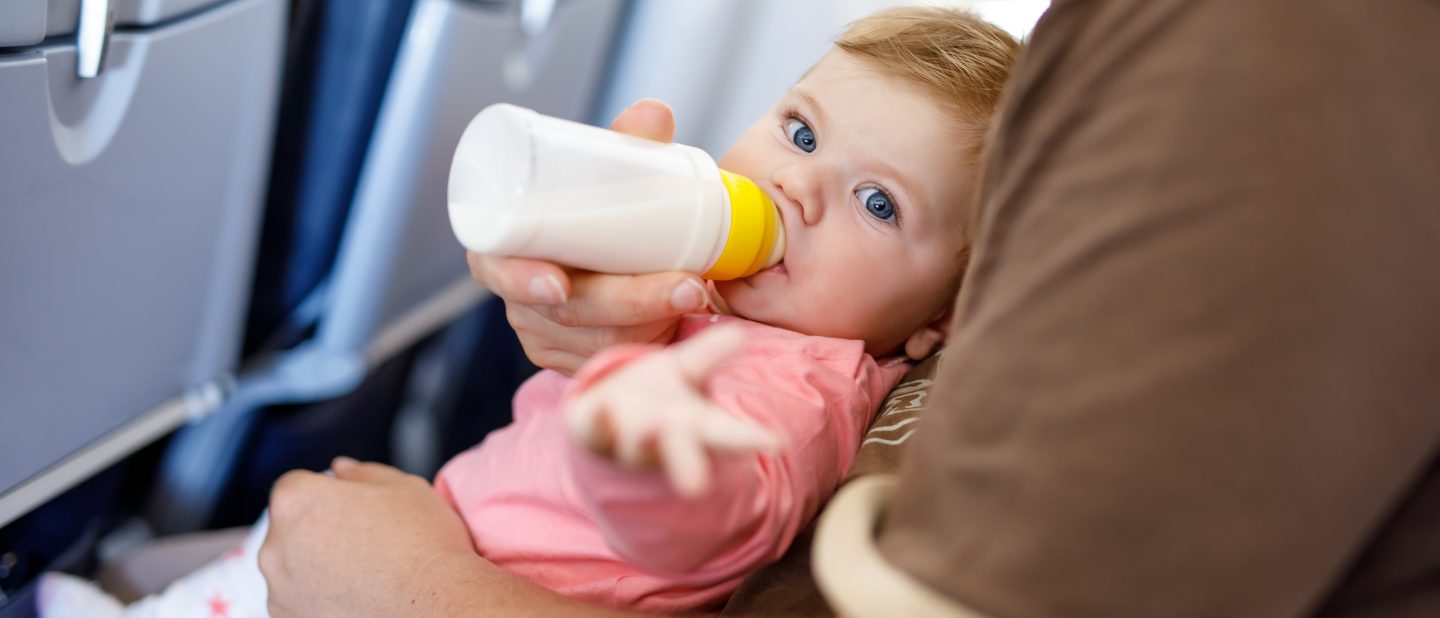 Important information on preparing for a journey with your baby
You can keep your buggy or pram with you until just before boarding; it will be handed back to you immediately after landing.
Night flights are especially suitable for travelling, as your baby can maintain his or her sleep pattern and consequently be more relaxed.
During the aircraft's ascent and descent, help your baby to equalize the air pressure by giving him/her a dummy or a bottle.
Changing tables can be found in the washrooms on board.
There is adequate water for babies' bottles on board, which saves you having to buy water after you have passed through security.
We also have spare nappies on board for emergencies.
Can I get baby food on the aircraft?
Yes, but it is worth taking along your baby's favourite food or bottle, as the supplies of baby food on board Lufthansa flights are limited. We will happily warm up baby's bottles or food for you on board. There is adequate water for babies' bottles on board, which saves you having to buy water after you have passed through security.
From what age does a child need a separate ticket?
Children aged two or over, or who will turn two during the trip, require their own seat. In this case, the child fare will be charged for the entire trip. Please note that for safety reasons only one baby per adult is allowed on board. However, if you have a second child under two years old travelling with you, you have the option of booking a seat and taking an appropriate child restraint system, such as a baby car seat or child seat, on board with you.
Where can I get a carrycot on long-haul flights?
On our entire long-haul fleet we have special carrycots available to you: The carrycots are perfectly suited for babies up to 14 kg in weight and up to 83 cm in length. The number of carrycots on board is limited. You can reserve the carrycots up to 52 hours before flight departure. Please note that, depending on your booking class, a seat reservation fee for the seat with the carrycot may apply. For further information, please contact the Lufthansa Service Center.
Do you need a child seat in an aircraft?
A child restraint system or child car seat or baby seat can be used on board to increase the passive safety of infants and children (up to about 7 years of age). Their use is entirely voluntary.
How much baggage can I take per baby?
With Lufthansa, children under two have a free baggage allowance of one bag weighing up to 23 kg. This does not apply to the Economy Class Light fare. In this case, only the accompanying adult can add one piece of baggage to their booking for a fee of EUR 25 per route. Additional pieces of baggage must be checked in as excess baggage. A car seat or folding buggy or pram or a baby seat may be transported as carry-on baggage free of charge.