Lufthansa apps
All you need: in one swipe of your finger

Experience a new kind of travel with the Lufthansa apps. Whether you want to search and book flights, check in on the go, save your boarding passes and digital vaccination certificate or access information relating to your flight – the apps provide comprehensive services that you can use conveniently via your smartphone, tablet or Apple Watch. In addition, new features are always being added which make travelling with Lufthansa as simple and enjoyable as possible. Enjoy a completely relaxed flight experience entirely in keeping with our slogan: "Rethinking air travel".
Download now for smartphone or tablet
To download the app, simply click on the logos of the relevant App Stores and you will be redirected. The app is available for both smartphones and tablets.
The Lufthansa app now listens to you.
The Lufthansa app is now becoming even smarter for you. Find out the essentials about your next flight with the new Siri Shortcuts in Apple's iOS 12, without having to open the app. A short voice command, such as "Hey Siri, my flight", is enough.
Add the Lufthansa app once only to Siri, and your iPhone will provide you with the information you need by the customised short command. Not yet at the airport? Siri will tell you how long you need to get there and whether your flight is on time. At the airport the same command will tell you your departure gate and how much time there is before boarding. You are already at the gate and boarding has started? Siri produces your mobile boarding pass and also tells you your seat.
How to add the Lufthansa app to Siri when your flight takes off within the next 23 hours:

open the Lufthansa app and log on with your Lufthansa iD or your Miles & More profile. You can also follow this step if you have saved your mobile boarding pass in your Lufthansa app during mobile check-in.
On the homepage, click on "Display details" under "My journey".
At the end of the flight detail page, select "Add to Siri".
Record the personalised voice command you would like to use to call up your information in the future.
The Siri short command is now installed for your Lufthansa app and is ready for use.
Even without a flight booking, you can add the Lufthansa app to the Siri short commands via the Siri settings (Settings > Siri & Search > Lufthansa > Short commands).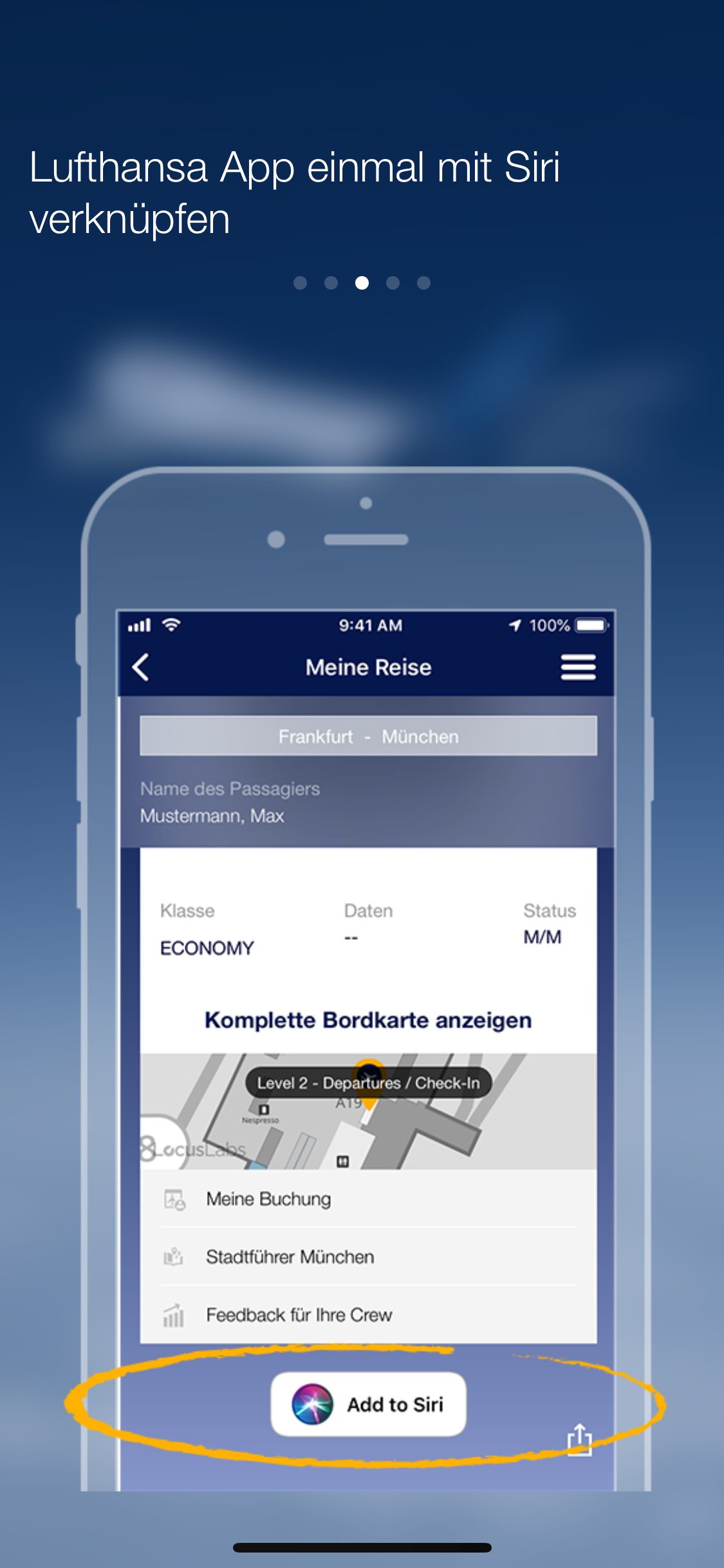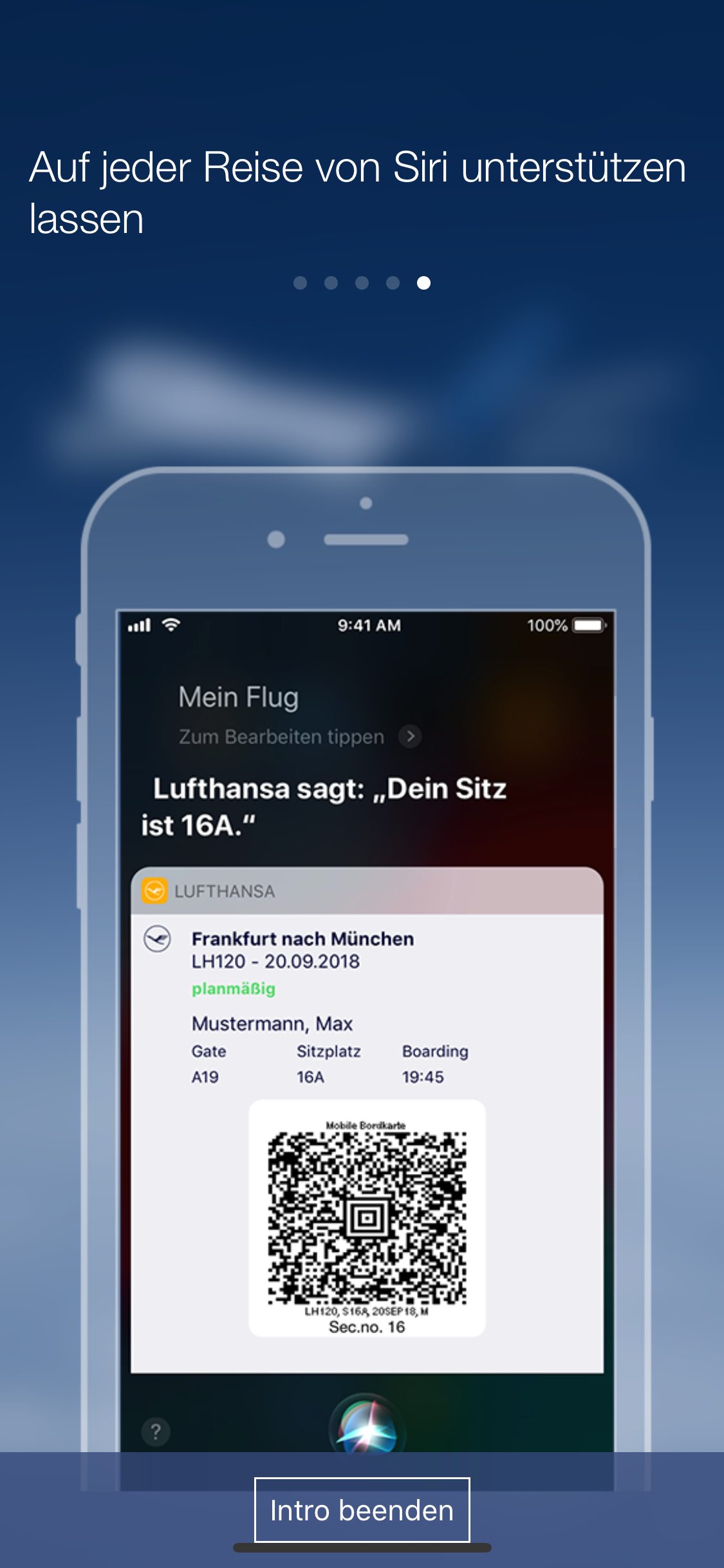 The Lufthansa apps offer you virtually the same services for all operating systems which you can use conveniently on the go. The following features, among others, are available:
Search for & book flights
With the Lufthansa app you can book and pay for Lufthansa flights and those of our partner airlines. You will find all the Lufthansa connections and flight numbers in the mobile timetable. You can add booked flights easily to your personal calendar.
Mobile check-in
With mobile check-in you can enter all the required information such as nationality, and type and validity of travel documents. Mobile check-in also gives you the option of subscribing to the check-in status request so that you will be informed by push notification about any changes to your flight.

If you are on the waiting list for a flight, a link on your boarding pass will take you directly to the waiting list status request. From the flight status you can also check whether the in-flight entertainment programme via the Entertainment app is available on your medium-haul flight. You can find further information about Lufthansa Entertainment on this page.
iOS widget
With the iOS Today widget you can retrieve your boarding pass without unlocking your phone. To do this, simply add the Lufthansa app to the Today widget, then swipe once from top to bottom.

iOS: Wallet app
For iPhones with iOS 6 and above, our mobile boarding pass is also available via the Wallet app. If you have already checked in on your mobile, the mobile boarding pass is saved in the Wallet app and will be available to you even without an internet connection. When your departure time is approaching, the mobile boarding pass is displayed on your home screen.

Baggage belt
Straight after landing you will get a push notification with information about which carousel your baggage will be delivered to. The service is available at Frankfurt, Munich, Stuttgart and Milan airports.
Smart Bag

If your suitcase is fitted with the new Bag Tag, you can now check in conveniently via Lufthansa app and drop your bags off at the airport within seconds. You will find the setting for this in the app's main menu under 'My baggage', via the pull-down menu for your forthcoming flight or via the mobile boarding pass.

Digital vaccination certificate
Save your digital vaccination certificate now under "Personal data | Entry data" in the Lufthansa app and save yourself time at check-in. Your vaccination certificate is automatically verified during check-in and issuing of your boarding pass and does not need to be scanned or uploaded again.
Download & manage your mobile boarding pass
The mobile boarding pass can be conveniently loaded into the Lufthansa app and can then be accessed offline as well.
Personal Travel Assistant
The Personal Travel Assistant accompanies you from check-in to arrival at your destination. You will be notified automatically about gate changes and your flight status.
Interactive airport maps
The Lufthansa app's interactive airport maps know all the important locations: from the check-in counter via the shops and play area through to your gate. Our maps show you the way clearly and help you to plan your time.

The airport maps available can be found in the Lufthansa app in the main menu under Info & Service or in your Travel Assistant.
Notification and message centre
The iOS app and the Android app offer you automatic push notifications. This means that you can receive information, for example, about check-in or gate and flight status changes directly on your home screen.
Benefit from saved data
If you have a Lufthansa user profile, when you are logged in you can benefit from automatic data loading, including in your flight booking and under 'My Bookings'. You can manage your account at any time: for example, you have the option of saving your preferred payment method or favourite destination.

In the app, you can also save personal details such as passport or visa information, which will then be automatically filled in at check-in or when booking a flight. This way you can save unnecessary typing.
Credit card scan
Now you can enter your credit card information very easily when booking a flight: just scan your card with the camera.
Passport scanner
Use our passport scanner to scan and save your passport details quickly and easily. Typing is no longer required.
Find information & navigate
Flight status messages, the latest flight information, advice about baggage or the option of giving us your feedback – with the Lufthansa app you will always be well informed. In all our apps you can find further helpful information relating to your journey with Lufthansa under Information & Service. With the clear slide-in menu for iOS and Android mobile devices in particular, you can navigate conveniently from any page to all services.
iPad: Discover Lufthansa
The iOS app for the iPad offers you special features under 'Plan & Explore': you can get to know the Lufthansa route network and the features of the Boeing 747-8' or the A380 interactively, and you also have the opportunity of discovering interesting city tips and the latest travel offers.
iOS & Android: App feedback
Your opinion is important to us, which is why we have simplified our feedback page. Help make the app even better by using the straightforward menu item 'Feedback'. This will help us to react to user problems even faster.
Everything at a glance – with the Lufthansa app for Apple Watch
The Lufthansa app is now also available for Apple Watch. It provides the ideal support for Lufthansa passengers, Miles & More members and Wallet users during their whole journey. It gives you a quick overview of your flight details, seat, gate and terminal.

Lufthansa special apps
As well as the services and information related to your flight that you can access using the Lufthansa app, the Lufthansa special apps also make for ideal travelling companions. Experience the world of Lufthansa from different perspectives and the time is guaranteed to fly by.

This app is all you need to sort out any issues concerning flight booking, baggage, your mileage account or other questions about Lufthansa quickly and easily. This way you can always reach the appropriate contact for your individual issue directly.


With this photo app you can conjure up a shooting star in the night sky whenever you want and make a wish for yourself or your friends.
The Lufthansa app for children aged three and above: amusing activity pictures and fun quizzes which are all about the world of flying.

The Lufthansa app, "Super JetFriends", guarantees lots of excitement for seven- to eleven-year-olds! Together with Lu and Cosmo, kids can complete important tasks around the airport.

How well do you know the Lufthansa fleet? Get to know the aircraft in the current and historic Lufthansa fleets in a fun way by playing Lufthansa's Quartett game.

Operate your seat-back screen on board easily with your own smartphone or tablet and select from the always up-to-date and ever-changing range of films, audio books, music and more.