Lufthansa Express Bus
Travel quickly and comfortably to the airport. With Lufthansa Express Bus on routes between Strasbourg and Frankfurt as well as Nuremberg, Augsburg and Munich, you can enjoy a pleasant and relaxed start to your trip. 
With Lufthansa Express Bus you can enjoy a travel service that is synchronised perfectly with your flight connections from our Frankfurt and Munich hubs. Thanks to appropriately timed services and minimal transfer times you can easily catch your flights.
Lufthansa Express Bus is available on the following routes:
Strasbourg – Frankfurt – Strasbourg
Nuremberg – Munich – Nuremberg*
Augsburg – Munich – Augsburg
Your benefits with Lufthansa Express Bus
Optimal synchronisation of bus and plane with transfer guarantee
One ticket and one check-in for bus and Lufthansa flight
Advance seat reservation for the bus journey
Bag drop-off in Departure halls A and B in Terminal 1
First-class, four- and five-star-category coaches (incl. Wi-Fi)
Mileage credit available for the bus journey too
Book Lufthansa Express Bus

In your flight search, select one of our Lufthansa Express Bus stations as your departure airport.

Select your Lufthansa Express Bus connection in the flight overview.

Book easily and check in for both your bus and flight between 23 hours and 15 minutes before departure.

Enjoy a seamless and relaxed journey to your departure at Frankfurt Airport or Munich Airport – with a transfer guarantee.

Please note: it is not currently possible to drop off your baggage at the AIRail Terminal
The AIRail Terminal at Frankfurt Airport is temporarily closed due to building work at the airport. For bag drop-off, please use the bag drop kiosks and counters in Departure halls A and B. Simply follow  the signage.
After you have landed at Frankfurt Airport and if you have an onward journey with Lufthansa Express Rail or Lufthansa Express Bus, you will still receive your baggage in the baggage reclaim area at the AIRail Terminal of the long-distance rail station.
Important advice for your journey with Lufthansa Express Bus
Check in online or via your mobile between 23 hours and 15 minutes before departure
One boarding pass each for Lufthansa Express Bus and your connecting flight
Your boarding pass serves as your ticket
Travel is only possible with a ticket booked and paid for in advance
Tickets cannot be bought on the bus
Please find out about the entry requirements and have all the necessary travel documents to hand for Germany and your destination country.
By booking a Lufthansa Express Bus, you agree to further conditions of carriage. Please read them before booking.
Further information
*Please note: this route can only be booked in conjunction with an outbound or connecting flight operated by Lufthansa or a partner airline.
This might also be of interest to you
Journeys to and from the airport
Enjoy a seamless travel experience from the planning stage to your destination and back again with Lufthansa Express and our partners.
Lufthansa Express Rail
Let your journey begin on the way to the airport: travel seamlessly by train to your flight with Lufthansa Express Rail—transfer guarantee included.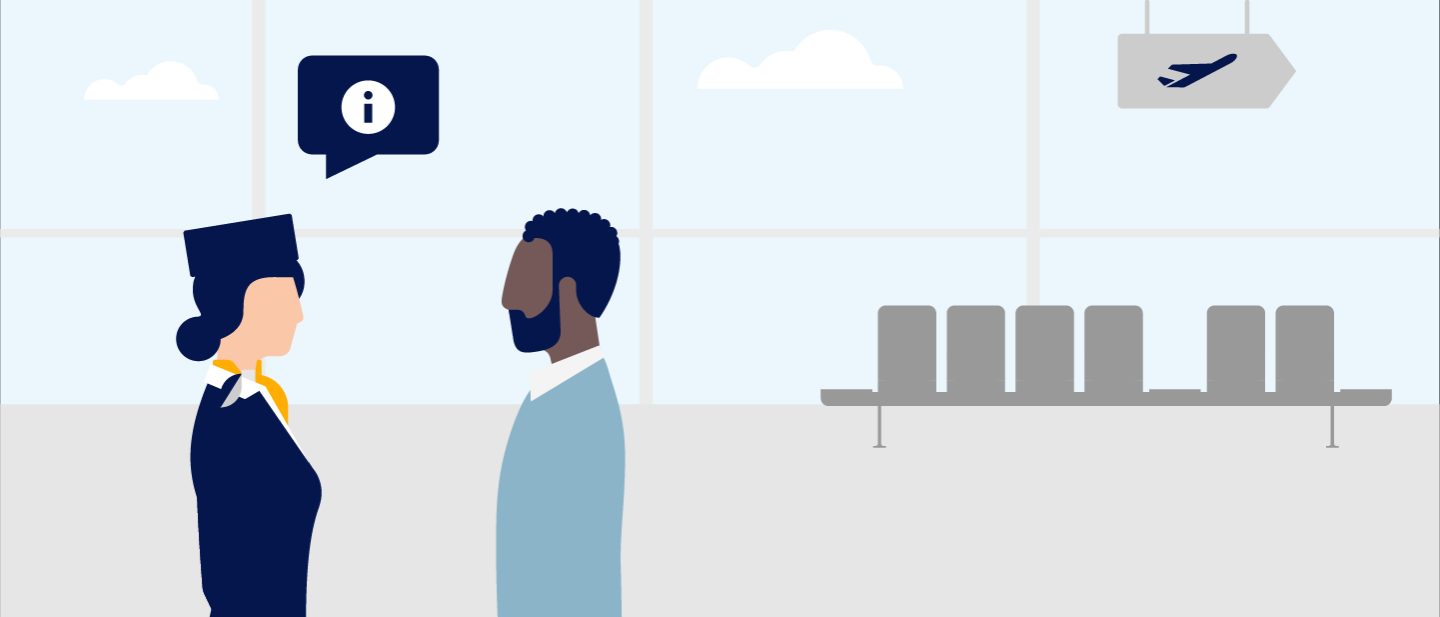 Services at the airport
Take advantage of our wide range of services at the airport for arrival, transfers, and boarding