Excess baggage
For excess and special baggage, flat rates apply. This is also the case for sports baggage that exceeds the free baggage allowance.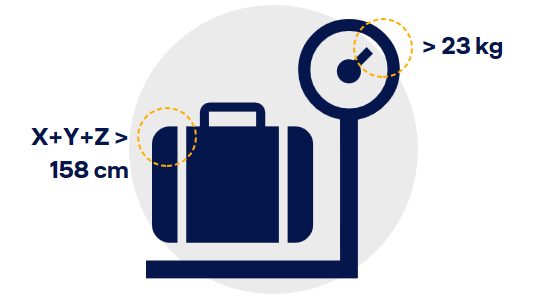 In Economy and Premium Economy Class, a piece of baggage is considered to be excess baggage when it weighs more than 23 kg (up to a maximum of 32 kg) and/or is larger than 158 cm (the sum of width X + height Y + depth Z up to a maximum of 292 cm).
In Business and First Class a piece of baggage is considered to be excess baggage when its total dimensions are greater than 158 cm up to a maximum of 292 cm.
Booking and prices
You will be charged the flat rates for excess baggage if your checked baggage corresponds to the allowed number of items but exceeds the permitted weight and/or dimensions, or if the number of checked pieces of baggage exceeds the allowance.
On certain routes, as an Economy Class passenger you can benefit from discounted flat rates for the second piece of checked baggage (up to 23 kg/up to 158 cm).
If you are travelling with another airline, please contact the operating airline directly for information about their excess baggage charges.
Baggage calculator
You can check your free baggage allowance in just a few steps with our baggage calculator – based on route, travel class and fare. There you'll also find the prices and permitted maximum weight and dimensions for excess baggage.
Due to limited capacity and varying regulations at our partner airlines, we recommend making an early reservation for your excess baggage, either

at your travel agency,
or by simply adding it to your booking yourself under My Bookings.