Can travel be reinvented?
And, if it's possible, what will it look like? What would it all involve? What would the thinking behind it be? Curious? Then come along with us. Join us on the journey to rethink long-haul travel.
Dawn of a new era
Things change when the perspective alters. Sometimes nuances put the whole thing in a different light. Sometimes it's the big step that only then makes something small seem right. With an eye to the nuances and taking big steps, we've set off to herald the start of a new era in long-haul.
over 30,000
reimagined seats*
This is the cornerstone of our thinking about a new kind of travel. Here it becomes tangible and real, and can be experienced in all its many aspects on intercontinental flights.
more than 100
new aircraft*
Whether brand-new or refurbished, over 100 aircraft will come into long-haul service over the next few years boasting the most modern travel classes.
over 2 bn
euros in investment*
Not simply a little better but fundamentally reimagined. Over the next few years, Lufthansa is investing more than 2 billion extra euros to raise its customer experience to a new level.
Numbers are important—but not a feel-good factor
And it's not about the numbers here too. In all our ideas and considerations, in all decisions and debates about direction, there was only one guide—your wishes.
What do you want?
Nobody sets off and just reinvents flying. But we can start the process by listening carefully. Asking questions and letting the answers have an impact. That's exactly what we've done. We've used our crews' experiences. We've worked with our designers, product and cabin developers, and listened to you, because from the start it was our aim to raise the travel experience to a new level for you. We want to push the boundaries in terms of choice, simplicity, and individuality. And in such a project, it's worth listening to the most distinguished experts we know—to you, for example.
The great feeling of being able to choose
Do you know what appeals to you most? What is most important to you on your next trip? Sleeping or enough space to work? We don't know, but we know that it's not the same on every trip. That's why you have the choice—for example in the case of the new and different seats, that can be adjusted to your personal preference. If you'd like lounge access, extra privacy, your preferred seat, individual meals, choose what is important to you for your next flight. But the best thing is that you also have the choice not to choose and yet have the certainty that everything will satisfy your needs.
It doesn't have to be complicated to get it right
It can, it may, it must be simple. Whether when booking, traveling to your flight, or connecting to the new Inflight Entertainment system, simplicity, the reduction of complexity, was and remains one of the most important pillars when we're thinking about making your travel, well, simpler.
However you want it, that's fine
We believe that showing appreciation has more to do with personal attention than with overwhelming luxury. It's about individuality, about knowing you. Knowing about your wishes and preferences in advance and reacting to them. Or not, if that's what you want. We'd like to give you everything you need to make your trip as individual as you would like it to be.
A challenging task: reimagining travel classes
We know it's not just the seat, the upholstery, or the headrest that determine a successful travel experience, but the seat you sit in has a crucial influence on it. That's why it doesn't matter whether it's a seat in Economy Class or in First Class: all seats are just as important as the people who sit in them. That's why we have started work on all travel classes. Creating new options for more privacy in Economy Class. Enhancing comfort yet further with a new seat design and the introduction of a fixed-shell seat in Premium Economy Class. And redesigning both Business Class and First Class from scratch. We're taking the time to offer you a modern, well-thought-out travel experience, and in doing so we're not following the vagaries of fashion.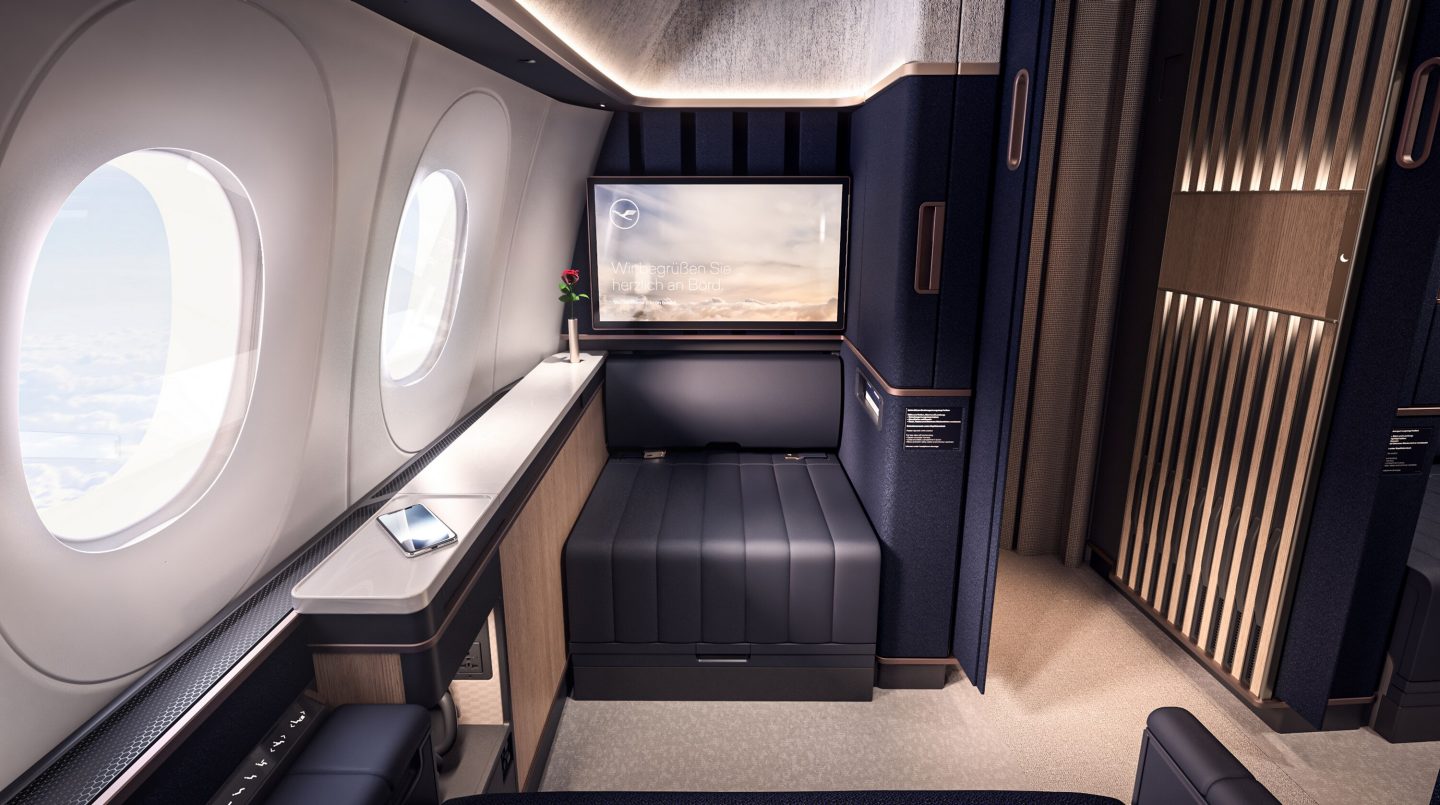 Good ideas need a new kind of thinking
Enough words: watch the movie for a glimpse into the new era of intercontinental travel.
* These figures refer to all Lufthansa Group airlines, of which Lufthansa accounts for approx. 27,000 new seats in approx. 80 aircraft.