Lufthansa Allegris—the future of travel
Wishes and expectations are changing. They're individual and personal. And they depend on the most diverse situations. Travel is an expression of individuality. The desire for personal freedom, combined with the idea of comfort and well-being.
You know exactly what you want.
We'll show you that we've understood.

Dawn of a new era
It can make such a difference if we change the way we look at things. Adopt a new perspective. Because often it's the little things that bring us so much more joy. Sometimes it also takes a big step to create a coherent whole.

We've listened closely. To you. Because if travel is to be raised to a new level across all classes, it stands to reason that we would listen to our most distinguished experts in particular: to our passengers. To you.
In addition, we're incorporating the practical experiences of our crews. And we're being inspired by the creativity of our designers and developers.
The result is a comprehensive concept of a reimagined travel experience.
Follow us on our journey into a new world of flying.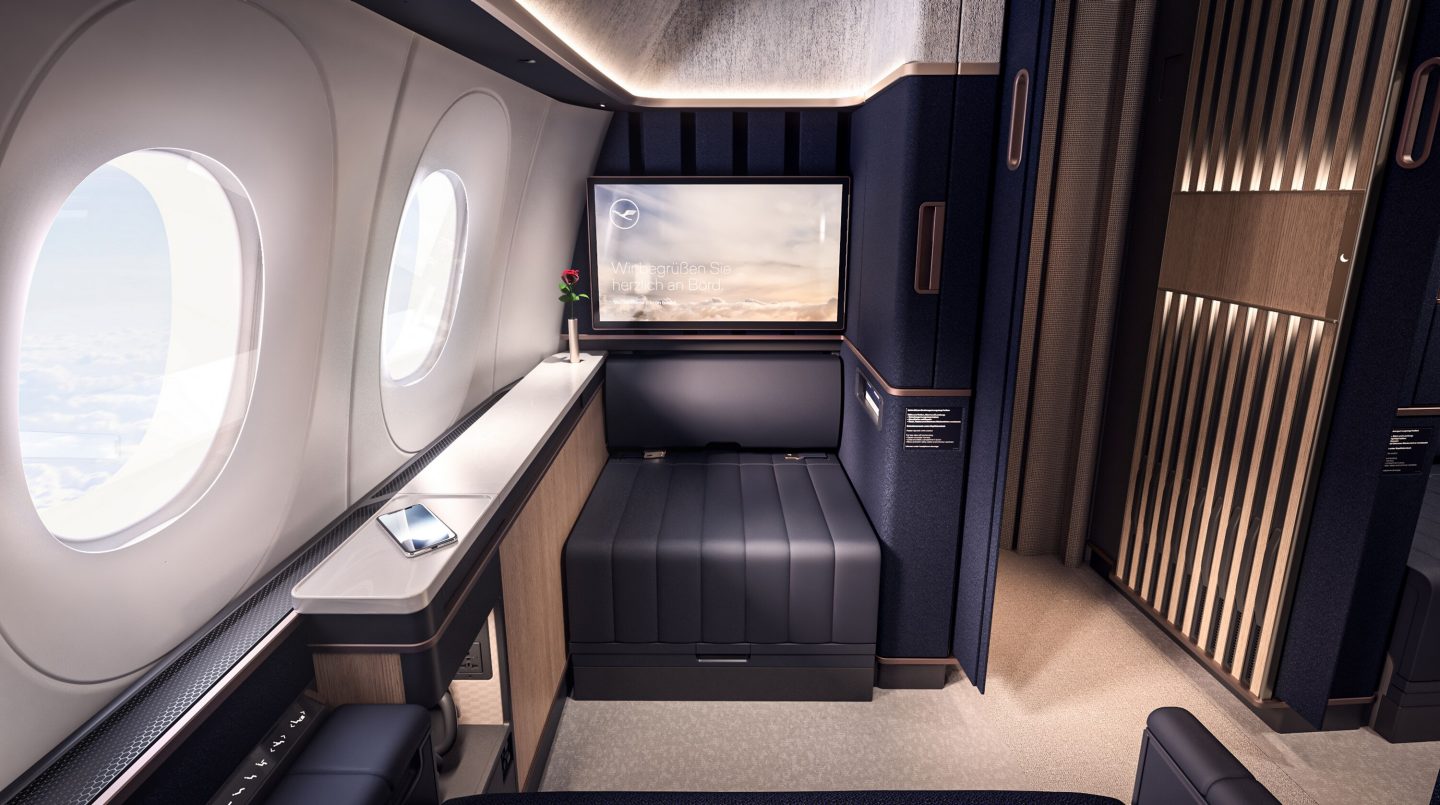 Lufthansa Allegris—individual well-being
The great feeling of being understood
As your host, we want to make sure that you feel at home with us.
On every single flight. Because we know that every journey is very individual.
Private today, professional tomorrow. Sometimes alone, sometimes with family or friends.

There are times when you want to choose entertainment and others when you need more privacy. Every flight is different and so too are our passengers' expectations.
That's exactly why in future you're going to experience a totally new generation of travel. One with tailor-made products and services from which you can assemble your personal preferences.

Lufthansa Allegris—the pleasure is all ours
From us for you: Lufthansa Allegris is our promise to always put you, as our guest, at the heart of what we do.
Because it's your personal travel experience that all our endeavors are focused on.
The variability of our new seats and the inspiration in the offers, give every flight a new lightness and make it special and even more individual.

Your wishes front and center—across all classes
Every detail counts
You'll be won over by our premium concept in all travel classes. Whether it's Economy Class or First Class, with us your comfort and your wishes take top priority. That's why you'll find new offers for more privacy in Economy Class. Premium Economy Class offers even more flexibility and personal space thanks to the shell seat. And, completely redesigned, Business Class and First Class will inspire you with a spacious and pleasant atmosphere.

The variety of our new Business Class
Ambitiously conceived—implemented with attention to detail
Would you like more privacy or more space to work? No problem. We've kept this in mind, just as we've kept in mind a relaxing sleep in an extra-long bed with a 2.20 m/7.2 ft lie-flat surface.
Traveling as a couple? We're offering you more togetherness thanks to double seats with a slightly narrower pitch that can be turned into a cozy double bed due to the extendable central console. And thanks to matching holders in selected seats, our youngest guests travel close to their mother or father in a baby cot.
Of course, all our Business Class seats have conveniently direct aisle access and feature a high-end in-flight entertainment system with state-of-the-art connectivity.

As a special highlight, experience our Business Class suites whose door and raised partitions ensure even greater comfort, space, and privacy.

Lufthansa Allegris: re-experience the joy of travel
Inspiration in pictures: roll the film!
* These figures refer to all Lufthansa Group airlines, of which Lufthansa accounts for approx. 27,000 new seats in approx. 80 aircraft.